Dear Friends,

It is with great pleasure that we address you through the 2nd edition of our e-Newsletter.
The CBS e-Newsletter is our best way to keep you up to date with the latest news and developments concerning the Marine and Onshore Industry, as well as to enable you keep track of all CBS News.
Our e-Newsletter release coinsides with important developments for the Marine Industry:
-MARITIME LABOUR CONVENTION MLC 2006:

The requirements set for entry into force have been met
On the 20th of August 2012, Russia and Philippines ratified the Maritime Labour Convention (MLC) 2006.
The Maritime Labour Convention has been ratified from over 30 ILO Member Countries (31, after Russia and the Philippines ratified it on 20/08/2012), accounting for almost 60% of the world's gross tonnage.
The Convention will enter into force on the 20th of August 2013, 12 months after the requirements set (ratification by at least 30 ILO Member countries representing at least 33% of the world's gross tonnage) were finally met.
-PSC JOINT INSPECTION CAMPAIGN 2012

(1st September - 30th November 2012)
On 1st June 2012, Paris MoU and Tokyo MoU, announced in a joint press release, that they have recently agreed they launching of a joint Concentrated Inspection Campaign (CIC).
The announcement of the joint CIC by Paris MOU and Tokyo MOU, was followed by relevant announcements by Indian Ocean MOU (07/06/2012) and Black Sea MOU (18/06/2012) which will also participate in this joint Concentrated Inspection Campaign.
The purpose of this joint Concentrated Inspection Campaign will be to ensure compliance with SOLAS Chapter II-2/ Construction-fire protection, fire detection and fire extinction arrangements on board ships.
We hope that you will find the contents of this edition of the CBS e-Newsletter useful and perhaps even enlightening.
We wish you a nice and enjoyable reading.

The Cyprus Bureau of Shipping e-Magazine - Issue No.2
(2nd Quarter 2012: June - July - August)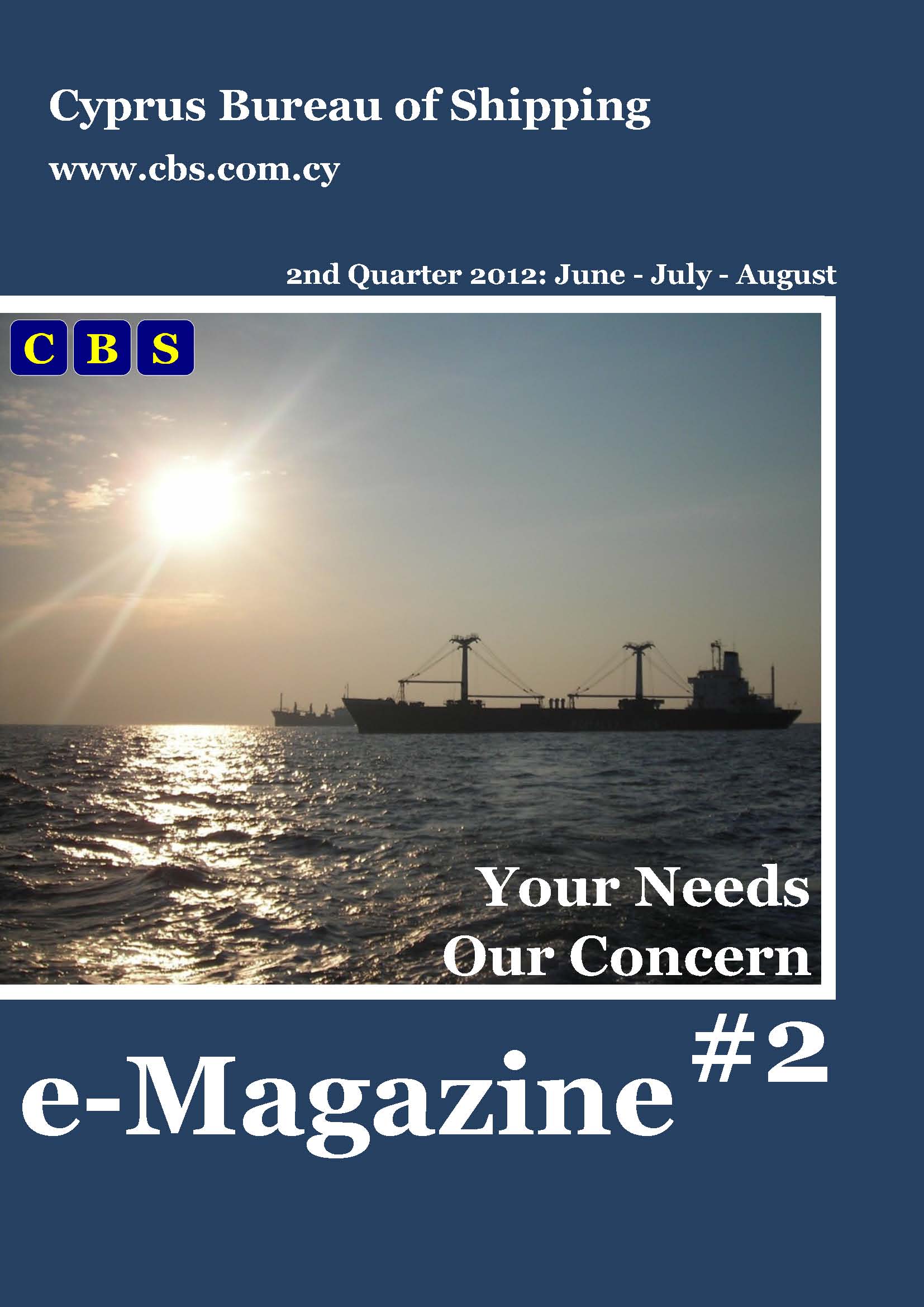 Click here to read this issue of the CBS e-Magazine

Read in this issue of the CBS e-Magazine:
(You may Click on a specific article to read it directly in the CBS Forum as plain Text)